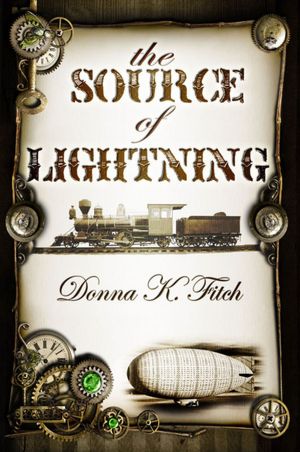 Richard Davisson was once a celebrated hero on the mail trains, apprehending robbers, until an encounter with a particularly dangerous one left him defeated and accused of being in league with the criminal.  Disgraced, he changes his name and attempts to settle down in a new life with his fiance and a desk job.  But Richard isn't really cut out for the quiet life.  When a train wreck throws him into the life of airship inventor, Kate Jordan, both of their lives will be turned upside down.
Two evil masterminds, both with unusual, almost supernatural abilities, team up to steal Kate's airship and travel to the Aether region.  One of them is the man Richard failed to apprehend before–his own father.  Forced into slavery, Richard and Kate find themselves tried and tested, and on a whirlwind journey that will change them both.
This was my first steampunk novel, and it was quite an interesting experience.  It was a little confusing at first, with a couple major characters alternating between aliases, until I got a firm grasp on them.  Set in 1897, it starts off with a strong historical feel with hints of magic in places, and moves a little slowly as the criminal masterminds move their pieces into place and the protagonists go about their business, unaware.  As it progresses, more strange occurrences happen, including murder, the crash of an airship from the past, and the capture of Kate and Richard to further the antagonists' purposes.  And finally the actual journey into the Aether becomes a non-stop, fast-paced, magical experience.
There's a good handful of characters involved, and one thing I liked was the degree of evolution they each underwent in their respective roles.  The one downside to that was there were some moments in the middle where I started to dislike the two main protagonists, Kate and Richard, because of their acceptance and collaboration with their captors.  I suppose the point was power and adventure are alluring, and in the end the characters had to make a choice, but it did make me not see either of them as a "hero."  But if you like the type of character development where people aren't all good or all bad, the author did a good job.
There's also quite a bit of complicated romances, and I never knew which characters were going to end up with whom.  The story was well-written and well-researched; I had no trouble immersing myself in the world.  (A few times throughout reading, I even thought it might make a good anime film, lol.)
The book is 109,000 words, and certainly feels epic when you start off on an old boxcar train and end up on a flying ship headed for a volcano made of glass and energy.  I did enjoy the read, and am curious to check out other books of the genre.